If you need a way to transport your belongings while riding a bike, a messenger bag can be incredibly useful. In this article we will take a look at some of the best bike messenger bags on the market today.
Our top choice is the Timbuk2 Classic Messenger Bag, which boasts a durable and eco-friendly construction. It features a TPU liner that protects the contents from moisture. This bag also has a soft padded shoulder strap that can be adjusted to meet your needs. You can count on it to last a very long time even with daily use.
Before you decide on a certain messenger bag, we encourage you to learn about the following products.
How we picked the best Bike Messenger Bags
As we put together our best bike messenger bags list, there were a variety of things that we took into consideration. We first looked at the overall construction of these bags. This will ultimately determine how long yours is going to last. Each of the bags listed below are quite tough and made to last a very long time.
We also made a point of selecting messenger bags that offer plenty of storage space for a variety of items. These bags can be used to store laptops, smartphones, wallets, keys, paper documents, and much more. They are also easy to carry around comfortably with no issues whatsoever.
A Spotlight On Some of The Best Bike Messenger Bags 2023:
Chrome Industries Kadet Sling Messenger Bag
The Chrome Industries Kadet Sling Messenger Bag features a crossbody style that offers a nice comfortable feel. It measures 8 by 17 by 4 inches.
This bag's sling buckle closure offers a secure fit on your body while in transit. You'll be able to release the buckle quite easily when you are ready to take it off.
The U-lock holster gives you additional stability so the bag doesn't move around while you are on your bike. You can swing it around for front access for maximum convenience.
One of the reasons we chose the Kadet Sling for our best bike messenger bags list is its durable nylon construction. It is definitely one of the sturdiest options available on the market today.
You will also have inside and front pockets for additional storage. This design gives you plenty of space for whatever you are travelling with. The daisy chain loops on the bottom let you attach a number of different accessories.
We particularly like the comfortable design of this bag. The shoulder strap is thickly padded for the best possible fit. It offers a luxurious overall feel that you will certainly appreciate.
With a total storage capacity of nine liters, you should have adequate space when travelling to and from your destinations. This bag can accommodate laptops up to 11 inches.
If you need a reliable messenger bag that you can wear confidently on your bike, this one is a superb choice. It is made of tough materials that won't get worn or damaged quickly. It will always stay firmly attached to your person at all times.
Pros:
Crossbody style allows for front access for convenience
Sternum strap keeps bag stable and securely in place at all times
Buckle closure is easy to snap on and off
Made of extremely tough nylon material that is rip and tear resistant
Offers nine liters of total storage space to meet your needs
Front and inside pockets are perfect for various personal items
Cons:
Some customers say that exterior material scuffs a bit easily
Timbuk2 Classic Messenger Bag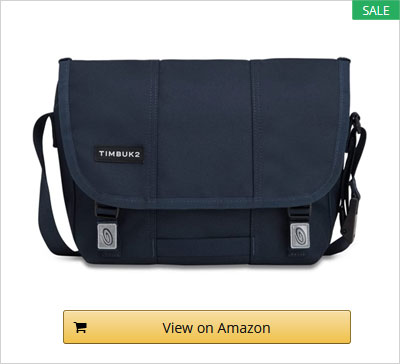 The Timbuk2 Classic Messenger Bag features an internal organizer that will allow you to store a variety of items. It is perfect for transporting a laptop, smartphone, pens and pencils, wallet, and many other things. There's also a slash pocket that is ideal for securely storing important files.
We really like the handle on this bag, which has a low-profile design for easy carrying. The shoulder strap features plenty of padding to prevent discomfort. You can adjust this strap to get an ideal fit no matter what. The crossbody strap keeps the bag stable on your body and can be removed if you so choose.
Another reason that we put the Timbuk2 Classic on our best bike messenger bags list is its secure buckled closure. It features compression straps that will keep everything inside of your bag safe and secure. These buckled straps are easy to get open and close as needed.
You'll find that this bag is also quite sturdy as a whole. It is made of recycled Eco Cordura, which comes from plastic bottles. This offers an eco-friendly option that you can rely on to last for years to come.
This bag is available in X-Small, Small, Medium, and Large sizes. You can also purchase it in a variety of vibrant color combinations.
Pros:
Cushioned cross body strap offers a high degree of comfort and stability
Buckled straps snap into place securely for reliable performance
Durable and eco-friendly construction will stand the test of time
Comes with a lifetime warranty for peace of mind
Shoulder straps is fully adjustable so you can get a perfect overall fit
Can accommodate a variety of items from laptops to important paper files
Cons:
A few customers say that strap is a little bit too short for them
A-Lab Model A Waterproof Bicycle & Messenger Backpack
The A-Lab Model A Bicycle Messenger Backpack has a very resilient waterproof design that you can always count on. Unlike many other bags on the market, this one is the product of high-frequency welding. This means that it won't get ripped or torn up so easily.
Inside of this bag you will find a padded sleeve that is absolutely perfect for laptops up to 15.4 inches. We especially like the Quick Lock closure, which features a roll top design. This allows it to be closed backwards or forwards for maximum versatility.
The shoulder straps on this bag is yet another reason that it made our best bike messenger bags list. These straps can be quickly and easily adjusted as needed. They are made of sturdy nylon material, which makes them quite tough overall.
You will also have elastic chest straps that add lots of stability. This is particularly useful while you are riding your bike. You'll never have to worry about the bag falling off, even when riding over rough or uneven terrain.
There is also a front zippered compartment on this bag that you can use to store a variety of smaller items. You can use it to secure your wallet, phone, keys, and many other things.
Pros:
Features padded sleeve for small to medium size laptops
Tough water-resistant construction that won't rip or tear easily
Easily adjustable shoulder straps and chest straps offer total stability
Front zippered pocket gives you an ideal place for smaller items
Offers 26 total liters of storage space to match your needs perfectly
Roll top closure keeps contents safely tucked away at all times
Cons:
Velcro material will begin fraying after a while
OIWAS OCK5578 Messenger Bag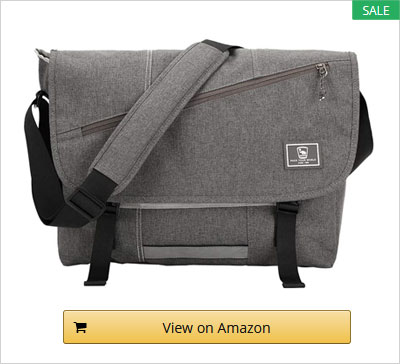 The OIWAS OCK5578 has a durable waterproof construction that consists of 600D polyester material. It has a 1.27-pound weight capacity, so you can trust that it is very solid overall. This bag has a 17.8-liter maximum storage capacity.
You can easily store a 15.6-inch laptop in this bag. It features a padded interior that will keep your belongings safe in transit. There is also a front zippered pocket that is intended for storing smaller items like your wallet, keys, glasses, and other items.
You'll find there are numerous individual compartments for your various items. It is also great for storing school books, tablets, smartphones, sunglasses, and more. This design allows you to keep certain types of items separate from others, which can be extremely useful.
Another reason that the OCK5578 made our best bike messenger bags list is its padded shoulder strap. It is specifically designed for a comfortable fit. You can adjust this strap very easily so it is never too tight or loose on your body.
The scratchproof design of this bag ensures that it will stay in excellent condition for a long time. It measures 13.78 by 5.71 by 13.78 inches with a weight of just 1.25 pounds. It is remarkably sturdy but lightweight, which makes it very easy to travel with.
Pros:
Made of tough waterproof 600D polyester material
Front pocket offers convenient storage place for smaller items
Multiple individual compartments to keep your items separate
Padded interior sleeve can accommodate laptops up to 15.6 inches
Comfortable to wear with padded adjustable shoulder strap
Secure buckle closures are easy to use and offer reliable performance
Cons:
Some customers report colors being slightly off from pictures
Cuero DHK Vintage Travel Messenger Bag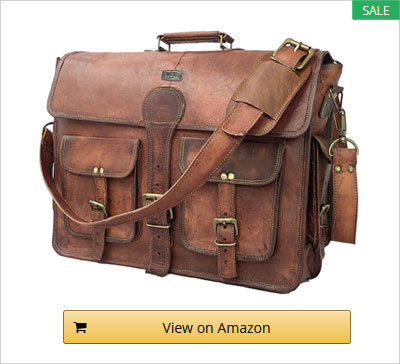 The Cuero DHK Vintage Travel Messenger Bag is made of full grain leather material. It boasts an ultra-durable handmade construction that will hold up exceptionally well over the years.
Measuring 13 by 18 by 5 inches, this bag can accommodate laptops up to 17.5". In fact, it has a padded compartment that is specifically designed for this purpose. There are two other sections in the main compartment that you can use for other items.
You'll also have four small exterior pockets (two on each side) that you can use for your phone, wallet, keys and more. The shoulder strap on this bag is quite sturdy and soft. You should therefore have no issues with carrying it around all day long. This strap can also be adjusted for an optimal overall fit.
The buckled closures on the main compartment and small exterior pockets offer maximum security. You can rest assured that the contents of the bag will remain safe always. These buckles are easy to fasten and undo as needed.
This bag's elegant aesthetic and premium construction are just two reasons we put it on our best big messenger bags list. It is a superb choice for everyday use, including for students and professionals. You will be able to get years of use from it with little to no wear or damage.
Pros:
Durable handmade full grain leather construction
Buckled closures are secure and very easy to use
Soft but sturdy shoulder strap has adjustable design for a great fit
Three interior compartments including one for a large size laptop
Numerous smaller exterior pockets are useful for storing a variety of items
Stylish vintage look makes it a great choice for everyone
Cons:
Not water resistant like some other bags
Best Bike Messenger Bags Buying Guide
As you take the time to look over the best bike messenger bags, there are a number of things to consider. The list of criteria below will help you in narrowing down your options considerably.
Construction
You'll find that the very best bike messenger bags are made of sturdy materials that won't rip or tear easily. We recommend that you look for ones that feature 600D polyester material. Nylon bags also tend to be quite tough and will usually hold up well over the years.
It's also a good idea to make a point of looking for bags that have a waterproof design. This will definitely be beneficial if you get caught in the rain while riding your bike.
Many people gravitate towards leather messenger bags because of their elegant appearance. While these bags can be fairly sturdy and long lasting, they are typically not very water resistant. If you want to buy one of these bags, make sure the one you choose is made of genuine full grain leather.
There are even some messenger bags that are made from recycled materials. Despite what you might think, many of these bags are actually quite tough. They are also eco-friendly, so you will be doing your small part for the environment.
Storage Space
The interior space that each bag offers is something else to consider. The best bike messenger bags will offer at least 17 liters of total storage. You should consider what exactly you plan on putting in your bag before selecting a certain none. This will help a lot with selecting one that will meet your needs.
You should also look at the various pockets and compartments that each bag has. You might want to buy one that has a padded interior sleeve for laptops or tablets.
Many of these bags also have smaller zippered pockets on the front for a wallet, keys, smartphone, sunglasses, and other items. The more compartments you have at your disposal, the easier it will be to find a place for everything.
We recommend that you look for bags that have an interior that features a number of individual compartments. This will allow you to keep your various belongings separate, which can be incredibly helpful.
Closures
Make sure that you take a look at the types of closures that each bag features. We recommend zippered and buckled closures, as they tend to be the most secure.
There are also bags with hook-and-loop closures that snap on and off. This design offers both security and convenience. Beware of bags with Velcro closures, as they tend to fray over time. You should be able to open and close the bag, as well as any exterior compartments, without any hassle.
Fit
A solid and secure overall fit is definitely one of the hallmarks of the best bike messenger bags. You will need to choose one that has a soft padded shoulder strap. This will help keep you comfortable while you are on the go. The shoulder strap should also be adjustable so you can get an ideal fit.
We also recommend bags that have a secondary sternum strap. This ensures maximum stability, so you won't have to worry about the bag falling off your body.
Size and Weight
Take a look at the overall size and weight of each bag before deciding on a certain one to buy. You should try to find one that offers a good amount of storage space without any excess weight.
A relatively light and compact bag will be fairly easy to take with you and transport. This is especially important if you are going to use it on a regular basis. It's always a good idea to find out which sizes are available with each bag. This will go a long way towards helping you to choose one that meets your needs perfect.
Conclusion
When you are reviewing the best bike messenger bags, you'll need to look for ones that have a very sturdy construction. This will help you select one that will last a very long time with regular use. The bag you choose should also offer a good amount of storage space with numerous compartments. Feel free to comment below so we know what you think about our list.